WELCOME TO SCLERAL LENS ASSOCIATES, INC!!
Scleral Lens Associates, Inc. is located in center city Philadelphia.
We are the only practice in the tri- state area (Southeast Pennsylvania, New Jersey and Delaware) that specializes in large diameter Oxygen Permeable Scleral lenses.
Our practice is dedicated to improving the vision and quality of life for patients with anterior surface disease and irregular corneas!
A Scleral Contact Lens is a device used to treat a number of corneal disorders.  These disorders can range from corneal distortion (from a variety of causes)  to severe ocular surface disease.  (see INDICATIONS).
This device is a Prosthetic Replacement of the Ocular Surface Ecosystem (sometimes referred to as PROSE).  It can neutralize any visual distortion and protect the tissue, (in case of severe dry eye/ocular surface disease), allowing it to heal.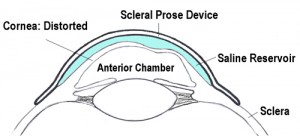 The Scleral Lens/prosthetic device is clear and can vary in size.  It can be anywhere from the  size of a nickel to a quarter and is made from a gas-permeable plastic that allows oxygen to reach the eye's surface. This device will rest on the white tissue of the eye, the sclera.  This part of the eye is much less sensitive than the cornea.  By resting on the sclera only, this lens will vault over the distorted/damaged part of the cornea.  This creates a new, smooth optical surface that protects the eye from the environment and any mechanical trauma that can be caused by blinking action.
When initially inserted these devices are (ideally) filled with non preserved sterile saline. On occasion, more viscous preservative free artificial tears have been used.  (Always check with your provider regarding brands).  This creates a Saline reservoir of fluid (see illustration) that continuously bathes the ocular surface with oxygen and nutrients.
We are a certified EYEPRINT PROSTHETIC provider for customized surface irregularities
visit www.eyeprintpro.com
_____________________________________
CALL:   267-908-LENS  (5367)
Located in:
William Penn Center  – Suite #105,   1919 Chestnut St.,   Philadelphia, Pa 19103
_____________________________________